We had so much fun with the review of the Labyrinth Hanging Goblin that we did back in July 2008, and got such a great response from readers, that we realised just how popular Jim Henson's movie still is, more than twenty years later. It is with this in mind that we decided to look at what other Labyrinth toys are out there.
Plush Worm


One of the first of the strange menagerie of creature puppets that Sarah meets on her journey through the Labyrinth is a mysterious talking worm. Actually, if it wasn't for the worm, the movie would've been a lot shorter! Toy Vault have now created a 13 inch long plush version of that same friendly worm. Sadly, this one doesn't talk and won't be inviting you in for a cuppa with the Missus, but he's definitely a must for Labyrinth fans.
Hangable Plush Door Knocker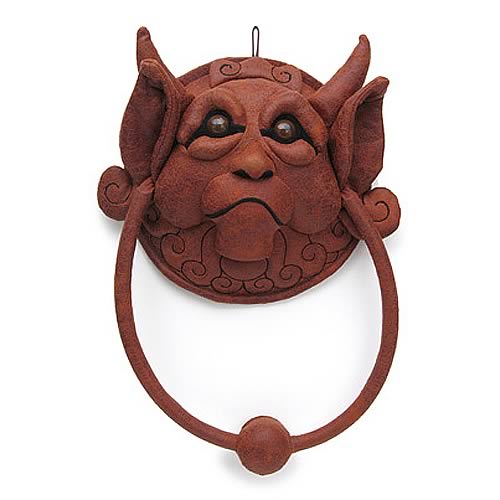 We weren't able to look at this one in person, so we're a little confused how it could be a plush door knocker (the actual one looks more like brass in the film) but there's no denying that it looks exactly how we remember it from the movie. This is supposed to be part one of a two part series. If you remember in the movie, there were two knockers, one with the ring in his ears, like the plush toy pictured, and can't hear anything, and the other has the knocker in his mouth. No word yet as to when the second one will be released, but if any of you readers happen to know when that will be, please let us know!
Jareth and Hoggle Boxed Set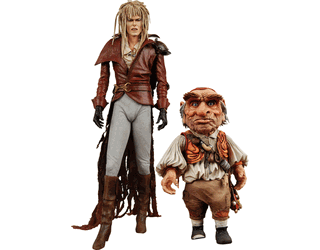 I fool around with polymer clay from time to time, and one of the main reasons I started that was because I always wanted my very own Hoggle. It took twenty years for a Hoggle figure to be released, but this boxed set produced by NECA more than makes up for it. This reproduction of both Hoggle and Jareth is just about perfect. The likenesses are spot on, and, well, think about how many great Jareth/Hoggle scenes you can recreate with these two figures!
Plush Sir Didymus


Sadly, I'm not as impressed by the plush Sir Didymus. While it's obvious which character he's supposed to be, he just doesn't seem to have enough detail to him. I'd like to see another Sir Didymus released. Maybe a figure of Sir Diddymus like the one shown on camera in Sarah's bedroom before she enters the Labyrinth or even a figure of him riding his mighty steed, Ambrosias. A Sir Didymus puppet would be interesting too! Given that the plush Sir Didymus has sold out in most places besides eBay, perhaps we'll actually get to see a newer, better version released soon.
Plush Talking Ludo


Yet another great piece for a Labyrinth fan. The texture of the fur looks just like Ludo's fur. I would have liked to have seen a bigger version though. At nine inches tall, it's fairly minuscule for this gentle giant. I am, however, very excited to hear what phrases he speaks!